Welcome to Hartly Shelties
I hope you enjoy your visit.
Owner/Breeder/Handler of Multiple Best in Show winning Shelties (all breeds and Specialty levels)
Breeding since 2005 - 27 homebred Champions our first in 2014, of those a few have continued to become extra special titles with 4 Supreme Champions, 2 Grand Champions, 1 UK Champion, 1 South African Champion
I have won Best in Show and Runner up Best in Show at Specialty shows 3 times. Qld, NSW and Victoria!!!
Queensland 2017 - BISS Ch Hartly Ima Sweet Talker & RUBISS Gr Ch Hartly How About Me
NSW 2020 - BISS Ch Hartly Keep On Shining & RUBISS Sup Ch Hartly How About That
Vic 2023 - BISS Ch Hartly Jewel Of Fire & RUBISS Ch Hartly Crystal Clear
Breeder of history making Shelties -
Sup Ch Hartly Shine On Me - Only Sheltie to have won BISS in 3 different states of Australia and done it TWICE!!! making that 6 BISS, putting her up with the best of Australia.
UK Ch/Aus Gr Ch Hartly How About Me - Only Sheltie to be Australian bred to win Crufts Best of Breed 2019!!
Licensed judge with ANKC -
Working Dogs, Gundogs & Utility Dogs - Championship Show level. Hounds - Open Show level
I have had the honour to judge at the following Specialty shows
Central Shetland Sheepdog Club show in NZ - April 2016
South Australia Shetland Sheepdog Club - June 2019
Collie Club of NSW - June 2022
Southern Districts Border Collie Club of NSW - Sep 2022
==========================================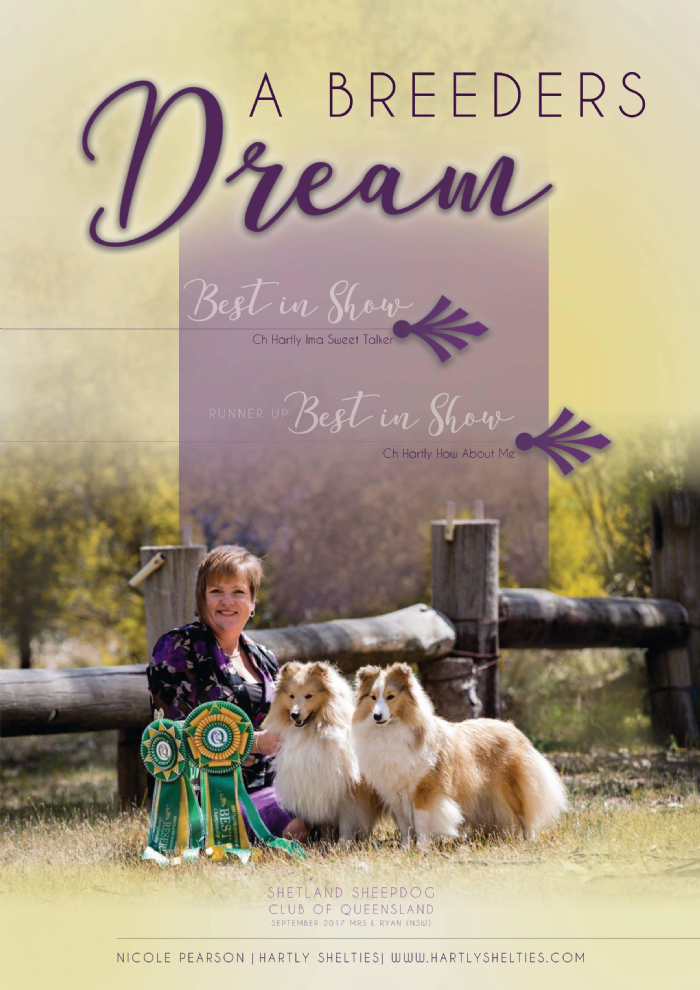 ======================================================
Below are typical Hartly Babies

Below are typical Hartly Show Dogs

157064 Visitors