Sup Ch Hartly Shine On Me
Welcome to Sharnies page
This girl is my Top Winning Bitch who has created breed history being the first and only Sheltie to have won 3 Best in Show Specialty across 3 different states. Qld 2014, NSW 2015 and Vic 2016!!!
Sharnie was Runner up Best in Show QLD 2016...
BISS Queensland 2018 !!!! her 4th Best in Show Specialty
BISS NSW March 2019...... her 5th BISS
BISS Victoria May 2019.... her 6th BISS!!!!!
Sharnie has now retired from the ring as one of the best Shelties at Specialty level having won a total of 6!!!! Best in Show Specialty wins.

Sharnie went on to produce MBISS/MBIS Supreme Champion Hartly Keep On Shining in June 2019. August 2023 Shine wins Best in Group at Brisbane Royal Show
To say I am pround of my homebred girl is an understatement.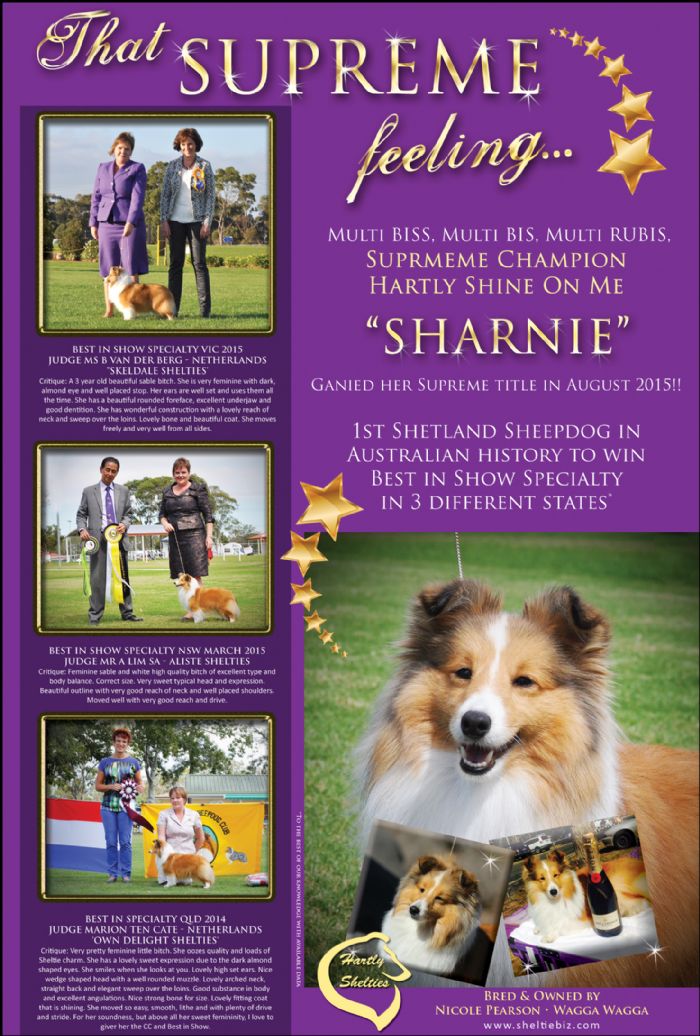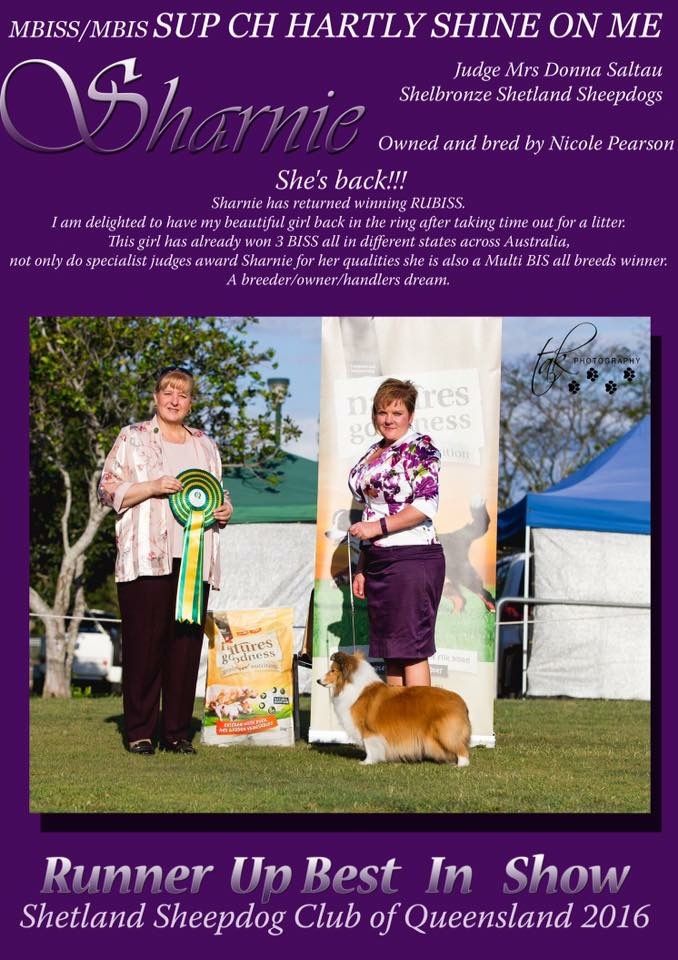 Judges Critique - Very feminine, pretty bitch. I fell in love with her the oment I laid eyes on her. She has a symmertical outline. Correct arch of neck, level topline into sloping croup. Balanced angulation. Good strength of bone for her size. Oval feet. Strong pasterns and well let down hocks. She has the sweetest of expressions with a perfect ear set. Dark almond shaped eyes and a well rounded muzzle. Balanced skull to muzzle. In excellent coat and condition today with her rich golden sable coat in abundance. If anything she has a lot of coat which makes her look to lack length of led (which she doesn't) with not much air under her but that's very minor. She moved out and back correct with an easy, smooth side gait. Top class bitch who went so close for Best in Show today.
Judges Critique - Pearson's Sup Ch Hartly Shine On Me and yes how the sun was shining on her! Seven years young bitch with stunning shape, her sweet eyes and expression blow me away, excellent shape and size with lovely neck, excellent body and bone, coever the ground easily, super coat condition and present to prefection. So well balanced in all ways and a worthy winner. So pleased to award her bitch CC and BOB and Best in Show and Veteran in Show.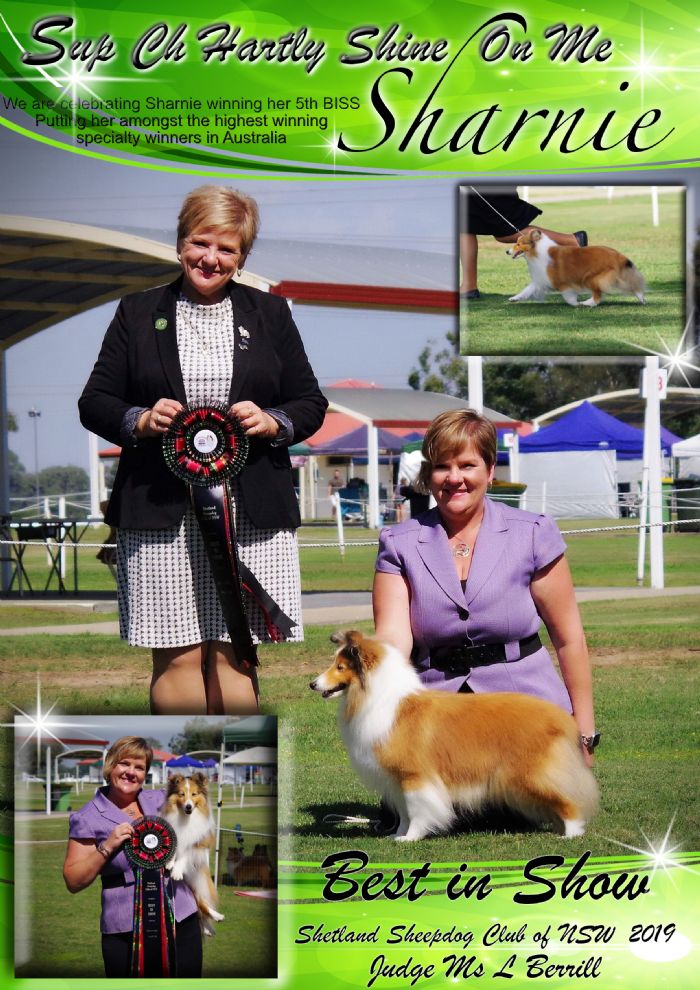 Judges Critique - 7yo sable bitch. Balanced wedge shaped head with a sweet expression. Correct almond eye, but would have preferred a neater ear. Correct length of neck into a well laid forequarter. Strong level topline with a correct finish in the rear. A well angled hindquarter with a good let down hock. Moved so true on the out and back and held herself so well on the side gait covering the ground effortlessly. Lovely amount of coat of correct texture not to hide this bitches elegant outline. This little girl was not going to be denied on the day, absolutely lovely herself and went on to be awarded Best in Show.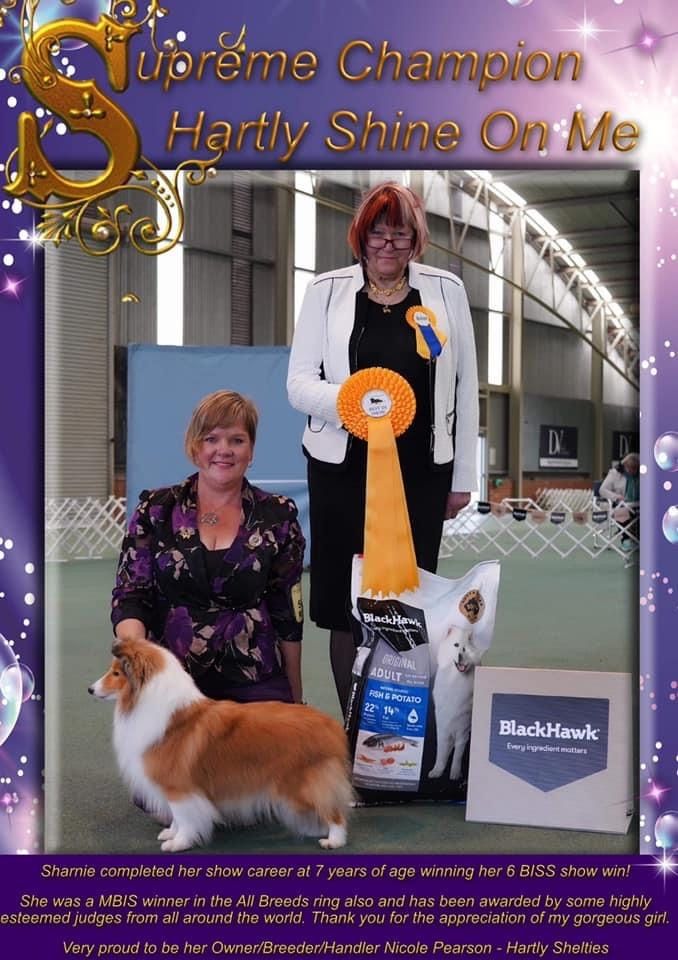 Judges Critique - Lovely type, feminine, correct size. Nice correct head with sweet expression, correct eyes and ears. Lovely, well arched neck, correct body and angulationn. Nice coat, moves and shows very well. BEST in SHOW
Multi BISS, Multi BIS, RUBIS, BIG, RUBIG Supreme Champion Hartly Shine On Me
"Sharnie"
View More Details