Ch Hartly Constant Comment
Welcome to Comet's page.
Comet has now retired from showing and breeding.
And what an impact she has made.
HIGHTLIGHTS
RUBISSS @ ACT Combined Collie and Sheltie Show 2016
RUBISS @ SSCQ Open Show 2015
BISS @ SSCV Open Show 2015
Comet excelled in the whelping box producing 8 Champions...
And many of these have also become producers. This bitch is truly a gift to the breed.
BISS Sup Ch Hartly How About That - Arlo
Rubig Ch Hartly How Devine - Astrid
RuBISS Ch Hartly Keep Commenting - Keeper
BIG Ch Beauideal With Compliments To Hartly - Whisper
BISSS Sup Ch Beauideal Cool Moves - Cool
Ch Hartly Mumms The Word - Bubbles
ZAF Ch Hartly Mimosa - Emily
Ch Hartly How We Roll - Herbie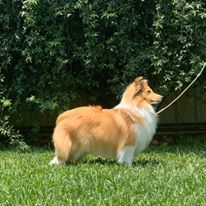 Hartly Red Carpet Rumours
RUBISSS Champion Hartly Constant Comment
"Comet"
View More Details